SPSAF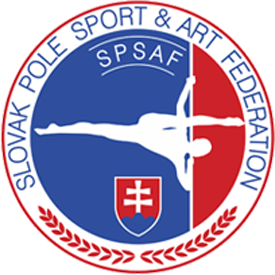 SLOVAK POLE SPORT & ART FEDERATION (SPSAF)
National Federation, which is engaged in the development, popularization, promotion, monitoring, control of all areas of the pole activities: pole dance, pole sport, pole art, pole fitness in Slovakia.
The main aim of the SPSAF activity is recognized Pole Sport official sport in Slovakia and promote the adoption of similar solutions in the world.
Federation realizes in the course of its activities the following tasks:
- Cooperation and support with the The Ministry of Education, Science, Research and Sport of the Slovak Republic.
- International cooperation, build international relations in the promotion and advancement of Pole Sport and all pole activities.
- Organization and holding of regional and national championships, competitions, festivals, tournaments, workshops for pole activities in Slovakia, the European Union and abroad.
- Association of experts, professionals, instructors, choreographers, coaches, dancers, in a single movement, which promotes the development of pole dance, sports ,art and strengthen the professional skills and social acceptance.
-Formation specialists of the highest level.
Organizing and carrying out training , courses for members of the Federation.
- Health promotion, promotion of healthy lifestyles in Slovakia.
- Development and strengthening of ties between the other sports associations, federations, coaches, athletes, schools, studios and representatives of other companies.
- Promoting participation of the Federation members in conferences, seminars and exhibitions that will contribute to the overall development of sports dance movement.
- Build Unique system of training athletes.
- Carrying out of advanced training courses.
-Help, support Federation members in all regions of Slovakia on any matters related to the championship, the training of trainers and conduct activities that coincide with the course of the Slovak Pole Sport & Art federation.
- Strengthening the authority of the Pole Sport as an independent and growing sport.
The Ministry of Education, Science, Research and Sport of the Slovak Republic provides assistance and support for Slovak Pole Sport & Art federation, so that we become one step closer to recognition Pole Sport, as an official sport .
We invite all interested in the development of Pole Sport & Art in Slovakia.
Contacts: slovakpolefederation@gmail.com
+421 919 388 076