POLE UNIQUE

ABOUT POLE UNIQUE
Pole Unique is the International Pole & Fitness instructors training courses, first endorsed qualifications in Slovakia according SPSAF and focus on development of common standards for teacher training,development professional skills, preparation of specialists of the highest level all over the world.
Internationally recognised & endorsed courses.
Collaborates with SPSAF, MSSR, IPSAF, IPSF
Our pride – it is our quality.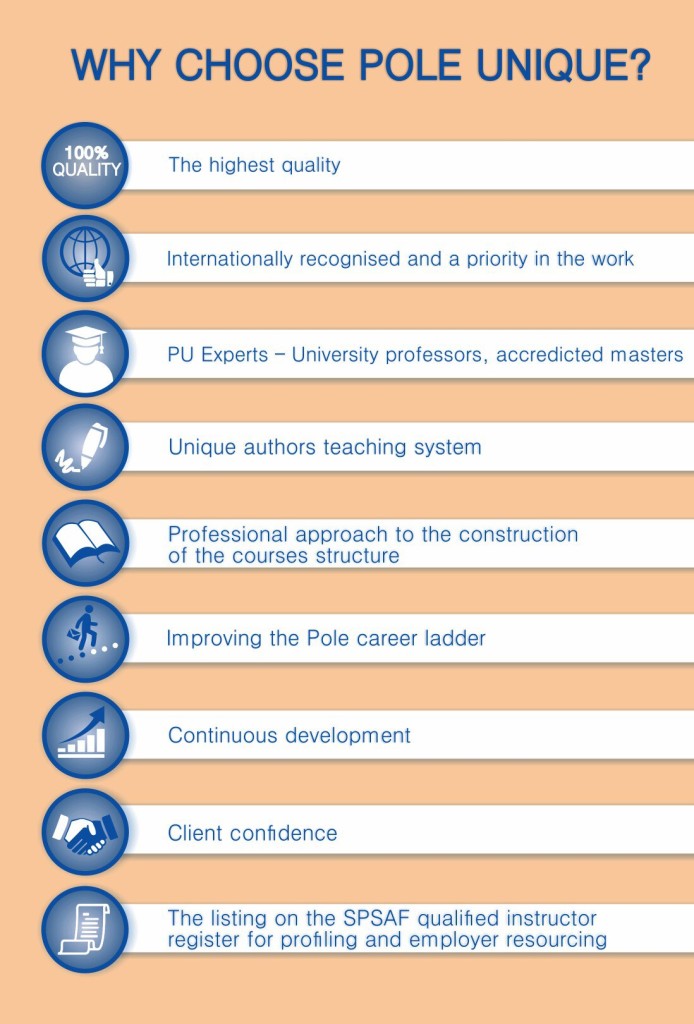 Why POLE UNIQUE?
The highest quality
Internationally recognised and a priority in the work
PU Experts – University professors, CMS, accredicted masters.
Unique authors teaching system
Professional approach to the construction of the courses structure
Improving the Pole career ladder
Continuous development
Client сonfidence
The listing on the SPSAF qualified instructor register for profiling and employer resourcing.
With POLE UNIQUE, you will know everything from Human anatomy, safe spotting techniques ect…to advanced and new acpects in Pole Activities and Pole Industry.
Remember ! Your clients just waiting to be a taught by a professionals
PU Courses avaliable to host:
DEGREE 1
DEGREE 2 :
2A
2B
DEGREE 3
DEGREE 4
FLEXIBILITY, CONTORTION
CHILDREN TRAINIER
All levels of the course consist of three parts:
Theory
Practice
Exam
Full courses 2 days ( 17 hours)
Express courses (2A, 2B) 1 day (10 hours)
Examination:
Written part (Tests)
Practical part ( Skills)
All participants will receive tutorials, workbooks, comprehensive training manuals, covering all aspects necessary to prepare for certification.
Host POLE UNIQUE Сourses in your country:
Please contact slovakpolefederation@gmail.com for details